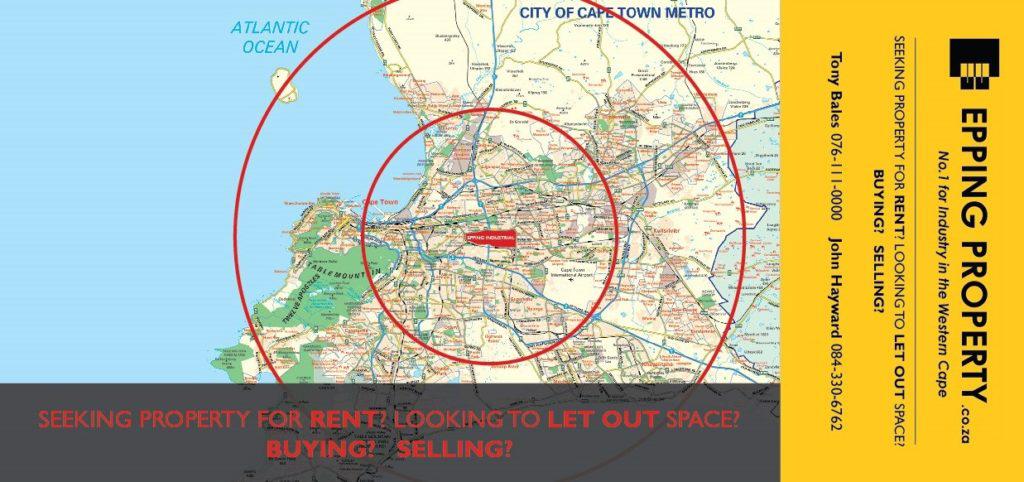 Epping Industria is the most central business location in Cape Town. Furthermore, Epping Industria is the largest industrial node in the entire Cape Peninsula.
Located to the south of Thornton, east of Pinelands and north of Langa. It has excellent access to many of the major arterial roads in Cape Town, being the M7/N7, N1, N2, M5 and the R300. Finally, proximity to the major roadways and the availability of most forms of public transport (Rail, Taxi, and Bus) make it a sought after location for business.
Benefits of establishing one's business in Epping Industria, Cape Town
Epping Industria is the most central business location in Cape Town.
Consequently, Access to most of the major roadways in the Cape Peninsula.
Less traffic congestion than most other large industrial areas.
Close to Cape Town International Airport.
There is good proximity to all forms of public transport.
Continual 24-hour security in the whole of Epping Industria with 24-hour camera surveillance.
Good availability of power for businesses.
Wide roads are offering good access to all forms of large trucks.
The efficient and active Epping Community Improvement District (CID).
Close, quick and efficient service by Epping Property Brokers.
Cost-effective rentals and property prices, offering good value-for-money.
The area hosts, amongst others, companies involved in the textile, automotive, warehousing, printing, logistics, construction, and food processing industries. Nampak, Africa's largest packaging company, is one of the major companies to have operations in Epping. Distell, CTP are just a few names of many large companies based in Epping.
The Cape Town Market is one of the oldest yet largest fresh produce markets in South Africa. It is over 50 years old and services over 5,500 producers delivering fresh produce to market agents, who in turn sell the fresh produce to over 8,000 registered buyers.
Businesses relocating to Epping will either purchase property or rent premises. Also, if they rent, they will look at all the factors to consider when entering into a new lease.
Epping CID
The Epping Community Improvement District (ECID) manages the Epping suburb in an efficient manner and for the benefit of all stakeholders. All property owners contribute to the operating costs of the ECID. Importantly, the ECID assists the City of Cape Town Municipality in looking after aspects such as cleaning, security, emergency management and traffic management.
An example of their services is when they attend timeously to fires that break out in Epping.
Epping Industria was established as an industrial suburb many years ago. It has evolved to continue to be the first choice suburb for many companies to locate their businesses to in Cape Town. (Click here to see The History of Epping).
Epping Industria is the most central business location and most properties in Epping Industria are zoned General Industrial 1.
View the latest version of the Epping Property brochure/ newsletter
(Select Location and Property Type. Also, use the slider to determine applicable Size and Price)
Epping Industria is the most central business location