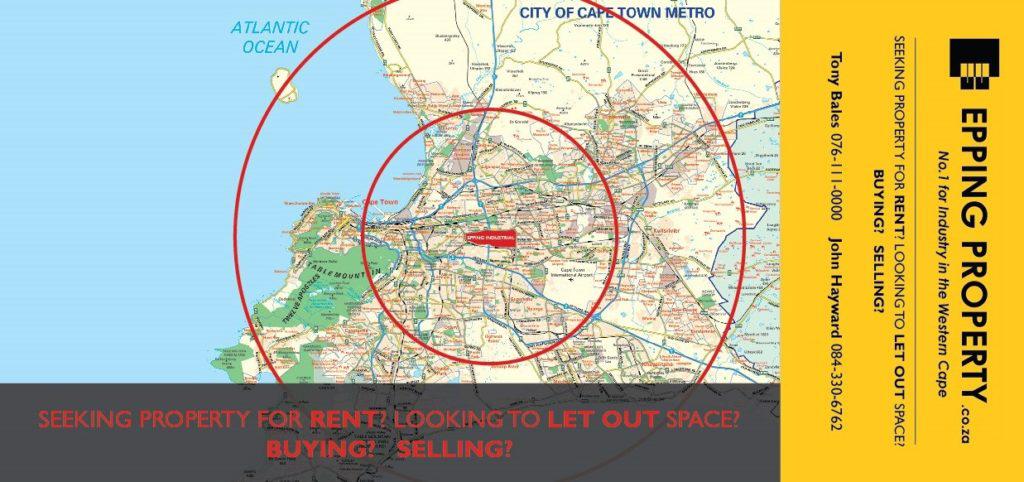 Epping Industria is the most central business location in Cape Town. Furthermore, Epping Industria is the largest industrial node in the entire Cape Peninsula.
Epping Industria is one of the largest industrial suburbs in Cape Town, South Africa. It is located approximately 20km east of the city centre. It is easily accessible via the N7 highway, which connects the area to major transportation routes in and out of the city.
The suburb is home to a wide range of manufacturing, warehousing, and distribution businesses, as well as service providers, wholesalers, and retailers. The area is known for its diverse industrial base, with companies ranging from food and beverage processing to engineering and fabrication to printing and packaging.
One of the critical advantages of Epping Industria is its proximity to major transportation routes, including the N7 highway and the Cape Town International Airport. This makes it an ideal location for businesses that require efficient transportation and logistics, whether importing and exporting goods or moving products across the country.
The local government has also invested in infrastructure and services to support the growth of businesses in the area, including road upgrades, public transport, and waste management. Additionally, the area is well-served by various business and support services, including banking, insurance, and legal services.
Overall, Epping Industria is a thriving industrial suburb with a diverse range of businesses and a strategic location that makes it an ideal place for companies that require efficient transportation and logistics. It is a pivotal contributor to the local economy, providing employment opportunities and supporting economic growth and development in the region.
Benefits of establishing one's business in Epping Industria, Cape Town
Epping Industria is the most central business location in Cape Town.
Consequently, access to most of the major roadways in the Cape Peninsula.
Less traffic congestion than in most other large industrial areas.
Close to Cape Town International Airport.
There is reasonable proximity to all forms of public transport.
Continual 24-hour security in the whole of Epping Industria with 24-hour camera surveillance.
Good availability of power for businesses.
Wide roads offer good access to all forms of large trucks.
The efficient and active Epping Community Improvement District (CID).
Close, quick and efficient service by Epping Property Brokers.
Cost-effective rentals and property prices offer good value for money.
The area hosts, amongst others, companies involved in the textile, automotive, warehousing, printing, logistics, construction, and food processing industries. Nampak, Africa's largest packaging company, is one of the major companies operating in Epping. Distell and CTP are just a few names of many large companies based in Epping.
The Cape Town Market is one of the oldest yet largest fresh produce markets in South Africa. It is over 50 years old and services over 5,500 producers delivering fresh produce to market agents, who sell it to over 8,000 registered buyers.
Businesses relocating to Epping will either purchase property or rent premises. Also, if they rent, they will look at all the factors to consider when entering into a new lease.
Epping CID
The Epping Community Improvement District (ECID) efficiently manages the Epping suburb for the benefit of all stakeholders. All property owners contribute to the operating costs of the ECID. Significantly, the ECID assists the City of Cape Town Municipality to look after aspects such as cleaning, security, emergency management and traffic management.
An example of their services is when they attend timeously to fires that break out in Epping.
Epping Industria was established as an industrial suburb many years ago. It has evolved to continue to be the first choice suburb for many companies to locate their businesses in Cape Town. (Click here to see The History of Epping).
Epping Industria is the most central business location, and most properties in Epping Industria are zoned General Industrial 1.
View the latest version of the Epping Property brochure/ newsletter
(Select Location and Property Type. Also, use the slider to determine the applicable Size and Price)