15 Benefits of locating one's Business in Epping Industria. Many successful companies, large and small, have chosen Epping Industria as their preferred location in Cape Town. Why Epping Industria?
1. Epping Industria is the most central business location in Cape Town.
Geographically situated in the very centre of greater Cape Town, Epping Industria is the most central business location. It could not be better positioned to serve the whole of Cape Town.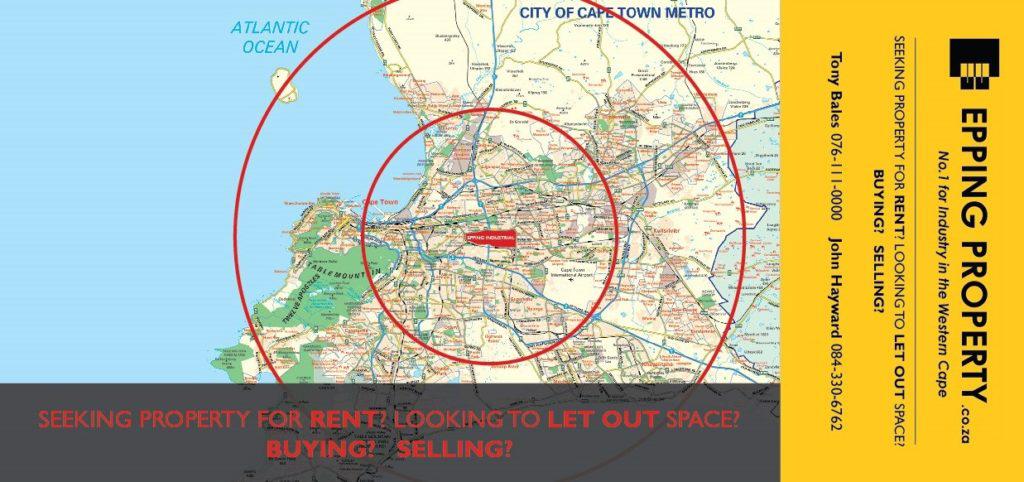 Located to the south of Viking Park, Thornton, WP Park and Ruyterwacht, east of Pinelands and north of Langa and Bonteheuwel.
Whether one lives on the Atlantic seaboard, Southern Suburbs, Northern Suburbs, Khayelitsha/ Mitchell's Plain or even Somerset West or the Winelands, Epping Industria is never too far away.
2. Access to most of the major roadways and transport links in the Cape Peninsula.
Epping straddles the M7 (Jakes Gerwel Drive), which in turn connects to the N1 to the north and the N2 to the south. Also, the M16 (Viking Way) connects to the M17 (Jan Smuts Drive) and Pinelands to the west and various routes to the east. Furthermore, the M5/ M3, R102 (Voortrekker Road) and the R300 provide quick access.
3. Lower overall costs of logistics as a result of the central location.
Due to Epping's central location in greater Cape Town, businesses have proved that transport and logistics costs are lower when in Epping. Importantly, not only do the costs relate to less mileage by vehicles, but also to time spent in traffic which is usually less to and from Epping.
4. Close to Cape Town International Airport.
Cape Town International Airport is within a 10km drive to Epping. (Closer in a direct line). Furthermore, the roadways to and from the Airport flow freely. Transportation of good rolls timeously along this route. The pending realignment of the runway at Cape Town International Airport is anticipated to increase the capacity of the airport by 50%. As a result, there will be a positive knock-on effect to all business locations, such as Epping.
5. Close to the Port of Cape Town.
Epping Industria falls within a 10km radius of the Port of Cape Town, although the travel by road is a little further. Many businesses like the fact that Epping is close to both the Airport and the Port.
6. Less traffic congestion than most other large industrial areas.
The extensive system of roadways around the central Epping area can dissipate any significant build-up of traffic. Consequently, Epping Industria benefits from far less traffic congestion than most other large industrial zones in Cape Town.
7. Wide roads are offering good access to all forms of large trucks.
Epping Industria 1 and 2 were specifically planned for industrial business usage. The roadways were originally built wide. With the proliferation of larger vehicles in recent years, these wide roads have become very useful. Naturally, they are better suited to facilitating the large trucks operating on the roads in modern times. Also, the wider roads facilitate the "stacking" of vehicles which sometimes occurs when delivery points become congested.
8. There is proximity to all forms of public transport (Bus, train and taxi).
Buses, taxis and trains serve the entire Epping Industria, plus Viking Industrial (opposite Epping 1) and WP Park (opposite Epping 2). Specifically, trains serve Epping 1 (Langa) and Epping 2 (Bonteheuwel) directly. Also, both Mutual Station and Thornton stations which operate on different train lines, are within walking distance of Epping. The taxis and buses serve the entire Epping with various pickup points.
9. Continual 24-hour security in the whole of Epping Industria with 24-hour camera surveillance.
The Epping CID security officers operate 24/7. They utilise four branded vehicles and two quad bikes, manned in total by six officers. Additionally, two extra branded vehicles are operational Monday to Friday between 07h00 and 18h00.
Furthermore, a range of sophisticated video surveillance cameras keeps a constant eye over Epping. There are now 16 PTZ cameras, 8 License Plate Recognition cameras and 18 Static cameras. The cameras operate from strategic locations. Monitoring of these cameras is on a 24-Hour basis. As a result, the camera control room picks up much of the criminal activity and suspected criminal activity. Finally, the control room then notifies the on-the-ground security staff/ officers who attend to the matter.
10. Good availability of power for businesses.
Epping Industria was originally developed in the 1950's. Athlone Power Station was completed in the early 1960's, whereafter Epping experienced a period of rapid growth. The massive amount of power available to this new industrial area greatly assisted this rapid expansion. To this day, many of the properties have retained their large power supply. Most of the more modern industrial suburbs in Cape Town have not been afforded such high levels of power as Epping. As a result, Epping is lucky to be able to offer superior amounts of power to businesses in this area.
11. The efficient and active Epping Community Improvement District (Epping CID).
The Epping CID is a Section 21 company and works together with the City of Cape Town in assisting with the essential services offered by municipalities. The cost of the additional services allows property owners the benefit of a well-managed business district. Each month each owners' municipal rates account attracts the small cost of the CID levy. Hence, the collection is by the City of Cape Town. The Epping CID then collects these funds from the City of Cape Town.
Various services include Security, cleaning, traffic monitoring, rubbish removal, greening, pruning of trees and enhancement of disaster management.
The stable and efficient backbone offered by the Epping CID has led to much of the success of Epping Industria.
12. Practical and well-rehearsed Disaster Management plan. (Fire and others).
The Epping CID and the various applicable municipal departments continually monitor the disaster plan in case of certain emergencies. Primarily, it is due to this well-rehearsed plan that different situations have been dealt with expertly. Emergency Fire management forms a large part of this program.
13. Close, quick and efficient service by Epping Property Brokers.
Epping Property is the only property company located in the central industrial areas of Cape Town. Their offices are opposite Epping 1. As a result, they can respond to clients quickly and efficiently. Most of the businesses in Epping Industria make use of their services. Their experienced property experts provide a broad range of occupants, tenants, investors and developers with property solutions. Most importantly, as they deal with industrial property matters every day, they have become excellent providers of practical solutions to industrial companies. For example, they can highlight the vital factors to consider when entering into a new lease agreement. Also, Epping Property can assist with the sale of property in Epping.
14. Cost-effective property prices and lower comparative rentals, offering good value-for-money.
Throughout time, Epping Industria has provided property prices that are cost effective when compared to some of the more modern industrial areas. This is one of the meaningful benefits of locating one's Business in Epping Industria. This cost-effectiveness has had a knock-on effect into the rentals offered, which traditionally are at a discount to most other industrial zones. Consequently, investors invest at lower entry levels and tenants can pay lower rentals. Finally, these value-for-money property and rental levels have led to stable, secure businesses who stay in Epping for extended periods of time. Happy property owners/ investors and happy business owners.
15. You're in good company with many of SA's leading businesses in Epping Industria.
The area hosts, amongst others, companies involved in the textile, automotive, beverage, chemicals, furniture, warehousing, printing, logistics, construction, and food processing industries. Nampak/ Neopak, Africa's largest packaging company, is one of the more major companies to have operations in Epping. Also, Distell, Pioneer Foods, AVI and CTP all have large manufacturing plants. Truworths, Firestone, Laser Group Logistics, Shoprite, Foschini, Steinhoff all have large warehousing operations in Epping. The Cape Town Market is one of the oldest and largest fresh produce markets in South Africa. It is over 50 years old and services over 5,500 producers delivering fresh produce to market agents, who in turn sell the fresh produce to over 8,000 registered buyers. Epping 1, in particular, attracts many food-related businesses due to the proximity to the Cape Town Market.
Property owners in Epping Industria are varied. From small business owners to the largest corporates, to the biggest listed property funds, to parastatals. They all own property in Epping Industria. As one can see, there are numerous benefits of locating one's Business in Epping Industria. Certainly, a perfect place for one's business location
(Select Location and Property Type and use the slider to determine applicable Size and Price)