LET
Premises to Rent in Epping Industria. An investor has purchased this 12,805 m² site at Cochrane Avenue in Epping 1. The facilities used to be owned by DairyBelle and now recently been sold by Epping Property. Subsequently, the new owner has renamed the complex as Giant Park 2. Giant Park 2 is now in the process of being upgraded and refurbished. Epping Property is hence seeking suitable companies to occupy the premises.
Noteworthy is that all the roofing has been replaced with modern roofing materials. The large yard area offers proper loading and offloading facilities.
Unit 5 –
To Rent
1,077 m² in total.
| | | |
| --- | --- | --- |
| First floor |       551 | m² |
| Ground floor |       526 | m² |
| |    1,077 | m² |
Large, open, proper loading and off-loading areas.
Importantly, this excellent landlord will try everything in his power to accommodate a tenant should a business wish to expand within the landlord's portfolio.
Occupation can be given immediately.
It is located within the boundaries of the City of Cape Town Municipality, in the Western Cape Province. Well-positioned and in Epping Industrial 1, probably the most central business location in Cape Town. A predominantly industrial area neighboured by the suburbs of Pinelands, Goodwood, Langa, Bonteheuwel and Matroosfontein.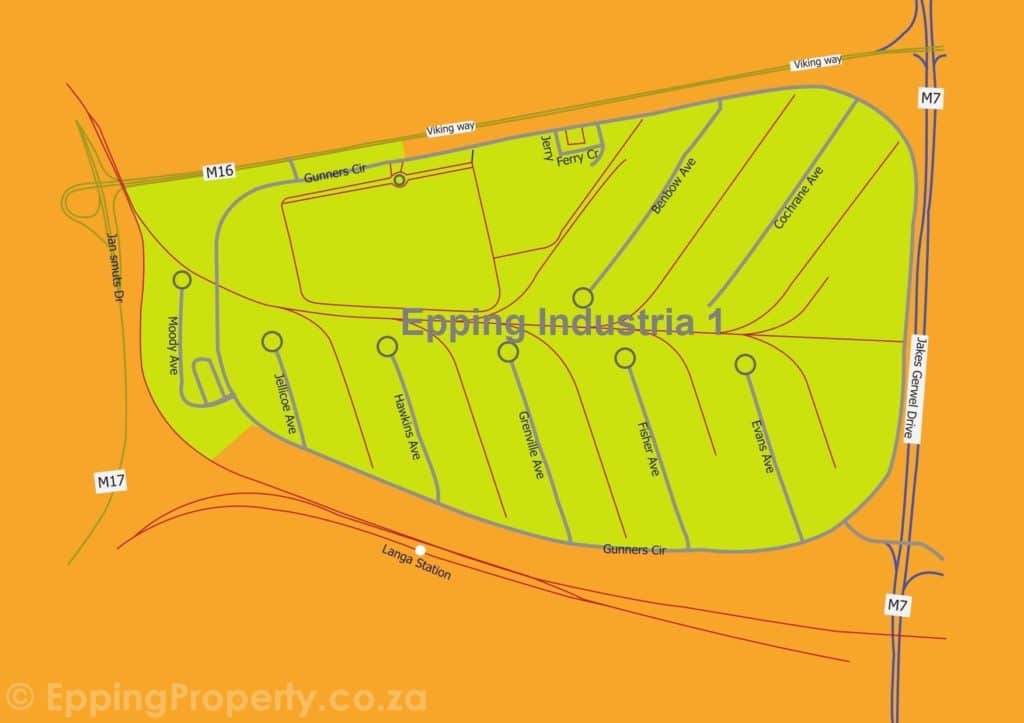 Epping Industria is very central to all parts of Cape Town.  Favoured by many businesses – large and small.  Strategically situated between the N1 and N2, the two most critical arterial roads through greater Cape Town. Also, Epping has easy access to the N7 (Jakes Gerwel Drive) which links the N1 and N2 in a north-south direction. Invest where the professionals invest … in Epping, Cape Town.
Located in the well-established Epping 1 industrial suburb.  The industrial node accommodates medium to large size industrial properties. Mainly occupying premises from  1,000m² up to 10,000m². Neighboured by a similar warehouse, and a railway line to the rear. Noteworthy is that it is also very close to Cape Town Market and various other companies involved in the fresh food industry, such as Golden Harvest.
Access via M16 Viking Way from M17 Jan Smuts Drive and also M7 Vanguard  Drive. Consequently, road access to the property is excellent. Also, the extensive, comprehensive road infrastructure accommodates large commercial vehicles.
(Select Location and Property Type and use the slider to determine applicable Size and Price)
Premises to Rent in Epping Industria
Property Details
Price: R35,000/month
Type: For Rent
Occupation Date: March, 2019

Address: Epping Industria
Rentable Area: 1,077.00 m²

Property Video
Additional Photos
Contact Us About This Property